Announcing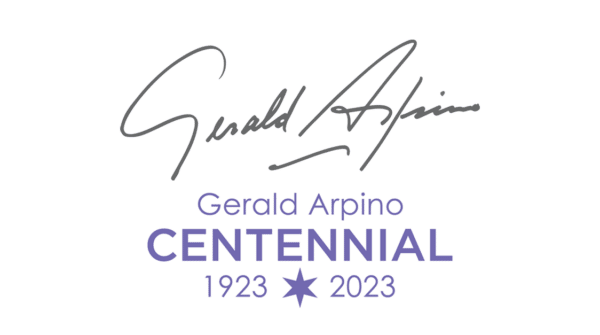 To honor the 100th birthday of one of the 20th century's most influential artists, The Gerald Arpino Foundation announces a multi-year Centennial Celebration of the late choreographer's life and works. Ballet companies and university dance programs around the country will perform Arpino's works during the 2022-23 and 2023-24 seasons. The culminating Chicago Centennial Celebration performances take place September 23 and 24, 2023 at the Auditorium Theatre, 50 E. Ida B. Wells Drive.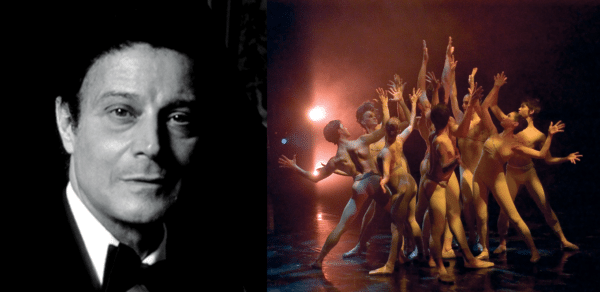 Arpino was a visionary dancer and choreographer who, along with Robert Joffrey, created a ballet company and a body of work that has made a singular and enduring impact on American ballet. Throughout his 50-year career, Arpino created nearly 50 ballets for The Joffrey Ballet. From landmark works like Trinity and Round of Angels to Suite Saint-Saëns and Light Rain, Arpino was a masterful artist and entertainer whose work brought audiences to their feet time and again.
The Foundation is providing ballet companies nationwide with special licensing agreements to broaden and deepen the celebration at their home performance locations during the coming two seasons. The Foundation will offer lectures and workshops on Arpino's life and work, in conjunction with some companies and universities. Among those participating to date are:
Check here for the latest updates. All programming is subject to change.
Arpino Centennial Spotlight:
Shayla Bott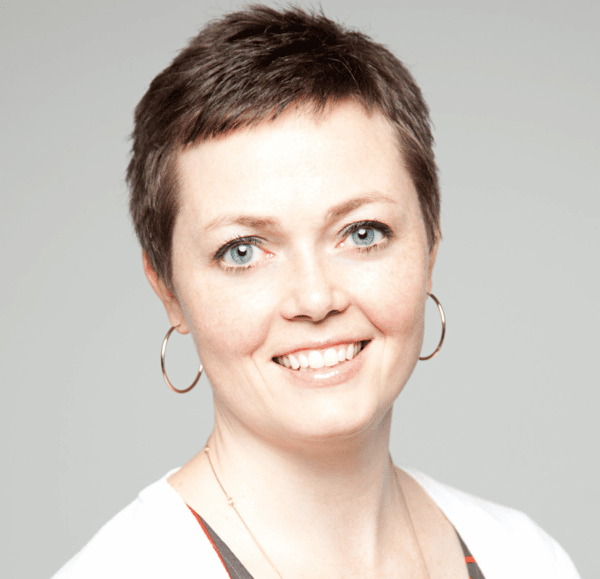 The Brigham Young University Department of Dance integrates body, mind, and spirit through performance, choreography, teaching, and scholarship. This mission aligns with the University's goal to assist individuals in their quest for perfection and eternal life. Brigham Young University is an accredited institutional member of the National Association of Schools of Dance. One of the largest academic dance programs in the nation, BYU's Department of Dance provides a broad base for professional training in both the classroom and the studio. Opportunities include highly mentored student and faculty collaborations, on-campus performances, community outreach, study abroad, international touring, and more.
In March 2023, BYU presents an all-Arpino performance that includes three works: Birthday Variations, Reflections, and Viva Vivaldi. This performance is part of BYU's annual concert featuring its top-tier ballet company.
Shayla Bott is an associate professor of ballet, artistic director of BYU Theatre Ballet, ballet area coordinator, and associate chair of the Department of Dance. She earned a BFA in ballet performance and an MFA in ballet with a focus on music, choreography, and pedagogy from the University of Utah. After retiring from a professional career with Utah Metropolitan Ballet, she has continued to choreograph and teach in professional and academic venues. Her creative work has received multiple awards. She is certified in STOTT Pilates Matwork and Reformer, and her work includes a rehabilitation-based focus to work with special populations. Current assignments include teaching Kinesiology for Dancers and conducting research to create safer training protocols for ballet dancers by fusing Pilates-based correctives with a strong focus in fascial connectivity and health into ballet technique courses. She has also successfully completed the ABT® Teacher Training Intensive in Pre-Primary through Level 7 of the ABT® National Training Curriculum.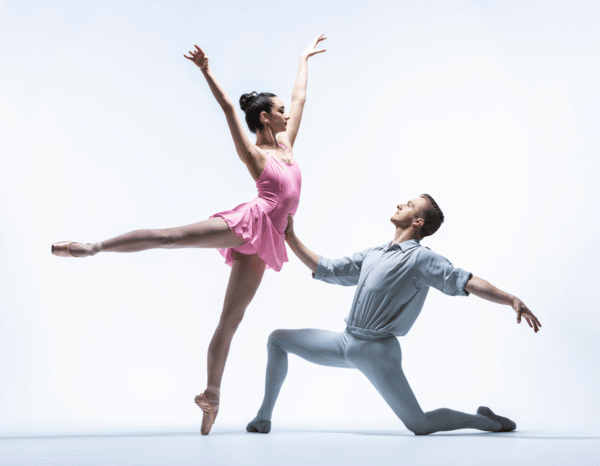 Arpino's Reflections by Brigham Young University Ballet dancers, Sophie Kunzelman and Ryan Hatch. Photo courtesy of BYU.
Shayla Bott's thoughts and reflections:
What is your personal history performing Arpino works?
I was choreographing on Ballet Arkansas and then-Artistic Director Michael Bearden introduced me to Birthday Variations, which the company was rehearsing. When I was introduced to Cameron Basden, Birthday Variations was the first ballet my co-director and I requested. It is such a gorgeous ballet and added so much to our repertoire.
As I learned more about Arpino's works, I was blown away that he was not as well-known as George Balanchine! I fell in love with his works right away, but the more I watch them, the more depth I see in them. His works are timeless. They have the ability to help dancers find artistry and musicality through their technical studies and classroom steps. This makes them accessible to students and professionals alike, but the end result is always magic.
What does it mean to you to have BYU perform the three works on your program, as we celebrate Mr. Arpino's centennial?
It is exciting for us to do Arpino's works for two reasons: First, the ballets themselves are incredible. We can literally see our students become more mature in their artistry and in their partnering and technical development week after week as we rehearse until we perform. As a university program, we believe that the technical and artistic challenges we provide for our students through the repertory we select to rehearse and perform is an outgrowth of their education. It is of utmost importance to us that we are process-oriented but that we still have an excellent product onstage. All of Mr. Arpino's works that we have performed have done just this for us. As faculty, we frequently comment that the dancers look completely different from the time we start learning an Arpino work to the time it is performed onstage.
The second reason we love to do Arpino's works is the chance for our students to get the incredible coaching that répétiteur Cameron Basden provides for them. She meets our students where they are and supports their growth through supportive but rigorous coaching. She is tireless in demanding what is necessary for the students to perform the works, and she always succeeds in pulling out of them more than they thought possible.
How would you describe the Arpino style? What are some distinctive elements of his choreography?
It is hard to comment on the Arpino style in a brief sentence, but if I could say anything about Arpino's works, it's that he has taken pure classical ballet and made classroom steps utterly dance-able. The off-centeredness, over-exaggeration of the port de bras, and the incredible musicality make classroom steps (and some non-classroom steps of course) interesting to dance and interesting to watch. The partnering, patterns, and spacing are unique but not overly so as to make his works overly cerebral. When you see an Arpino work, you feel something. And when they are performed well, the seamless work and performance casts a spell that isn't broken until the last refrain is heard.
How does dancing Arpino ballets prepare a dancer for other types of repertory?
Because of the purity of what is expected of dancers in an Arpino work, the partnering skills, musicality, and attention to detail are completely transferrable to other ballets. There are no specialized techniques or shapes that are not easily pulled back into the confines of classical ballet when needed. Performing an Arpino work teaches the dancers how to emote with the whole body through the technique and artistry, rather than by overly demonstrative port de bras and facial expressions as is sometimes seen in story ballets.
Arpino Centennial Spotlight:
Suzanne Lopez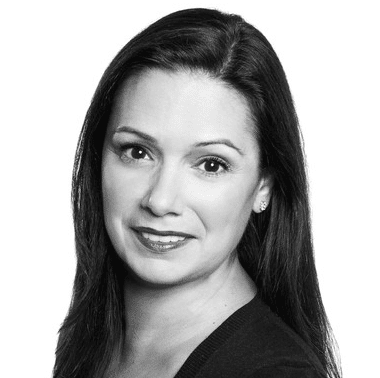 Suzanne Lopez, Rehearsal Director/Coach
The Joffrey Ballet celebrated 65 years of artistic excellence in 2021. Classically trained to the highest standards, the Joffrey expresses an inclusive perspective on dance that reflects the diversity of America through its Company Artists, extensive repertoire, Academy, and Community Engagement programs. Considered one of the premier companies performing today, the Joffrey plays a vital role in the dance community as one of the largest dance companies and dance education providers in Chicago and the greater Midwest region.
The Joffrey opens its 2022–23 season October 12–23 at the Lyric Opera of Chicago with "Beyond Borders," a mixed program that celebrates the company's maverick legacy with works by artists of the Joffrey's past and present, including Suite Saint-Saëns by Co-Founder Gerald Arpino, along with choreographers Liam Scarlett and Chanel DaSilva.
Suzanne Lopez was asked to join The Joffrey Ballet in 1991 after a year with the Joffrey II Dancers. She retired in 2010 after a long and outstanding career with the company. She danced principal roles in ballets by such choreographers as Robert Joffrey, Gerald Arpino, George Balanchine, Jerome Robbins, Alonzo King, John Cranko, José Limón, Antony Tudor, Twyla Tharp, Lar Lubovitch, and Sir Frederick Ashton. Some of her favorite roles to perform include the title roles in Cranko's Romeo and Juliet and Ashton's Cinderella, as well as the Sugarplum Fairy in the Joffrey's The Nutcracker. She was also featured in world premieres by Edwaard Liang, Donald Byrd, Jessica Lang, and Margo Sappington, among others. Lopez had a featured role in the movie The Company, directed by Robert Altman. She was thrilled to return to the Joffrey Ballet as a rehearsal director in 2016, where she has had the privilege to work on new creations with master choreographers, such as John Neumeier, Christopher Wheeldon, and Yuri Possokhov. She has also been a guest teacher, répétiteur, and coach at various schools and companies across the world.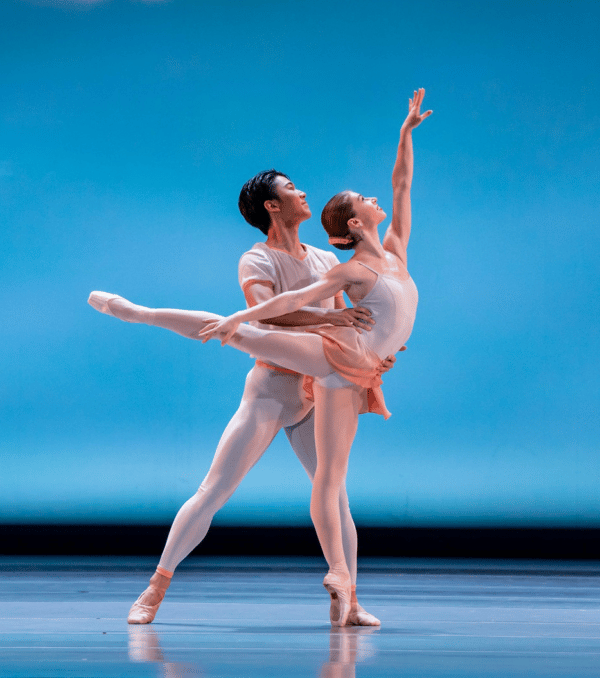 Arpino's Suite Saint Saëns with Joffrey Ballet dancers Valeria Chaykina and Hyuma Kiyosawa. Photo Cheryl Mann.
Suzanne Lopez's thoughts and reflections:

What is your personal history performing Arpino works?
When I was a dancer with The Joffrey Ballet, I think the bulk of what I danced was Arpino works. His ballets never really left the rep. Suite Saint-Saëns is one of the first ballets I learned in the company, and as a new dancer, you had to pretty much just pick up the choreography in the back of the room. There weren't teaching rehearsals. Now that I'm staging this ballet, it's really interesting to have to teach all 20 roles. And as is typical with an Arpino work, there are times that all 20 are doing different things. It's slightly daunting, but a lot of fun.
I've staged various Arpino works for the company and for the Joffrey Academy of Dance throughout the years. This is the first time I have staged this particular ballet in its entirety, and I really wanted to get it right. I have been combing through old videos and trying to decide what version I feel is right for the company now. I often start with the original choreography but know that I have options if something isn't working for a dancer. It is how Mr. Arpino worked, and I feel strongly about maintaining that flexibility to make each dancer look and feel their best.
What does it mean to you to present Suite Saint-Saëns as we celebrate Mr. Arpino's centennial?
When we started rehearsing this ballet, I told the dancers it was really important to me that every member of the company be involved. This ballet is their history and their legacy, and it's important for them to understand what that means. I think it's especially meaningful for the Joffrey to perform Suite Saint-Saëns because, in my opinion, it is the ballet that epitomizes the Joffrey system of "All Star/No Star."  In this ballet, everyone is a star, and everyone has a moment to shine. It's an honor for me to pass this ballet on to them, and it's a thrill to watch. All of these ballets started at the Joffrey, and we are excited to participate in the Arpino Centennial Celebration next year and welcome all of the companies to our home town of Chicago.
How would you describe the Arpino style? What are some distinctive elements of his choreography?
Mr. Arpino's style has a completely unique energy to it, compared to anything else I've ever danced. The line of arabesque is extreme. The footwork is quick. The movement always starts with the torso. And the dancers have to travel. There's no time to stop and think about what you are doing, which is why I think there is a youthful quality to his choreography. There are many times in Suite Saint-Saëns when a dancer runs across the stage, but the energy has to be just right, and they absolutely cannot slow down as they enter the wing! "Hit the wall, babies!"
How does dancing Arpino ballets prepare a dancer for other types of repertory?
Mr. Arpino used to say that if a dancer can do petit allegro (a series of small and fast jumps), they can do anything, and I think he was right. Anyone can dance slowly, but to be able to dance with speed, and still maintain precision, is an asset to a dancer. Our rep is so varied, and our dancers are so versatile, but it's wonderful to bring them back to their roots and to see that this ballet, which is nearly 45 years old, is still challenging today.
Arpino Centennial Spotlight:
Adam Sklute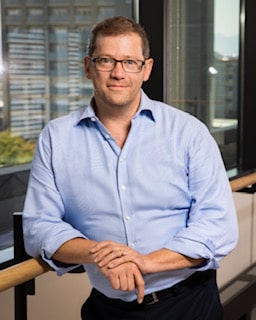 Ballet West Artistic Director, Adam Sklute
Ballet West, one of America's leading and largest ballet companies, has earned an international reputation for artistic innovation and excellence since its founding in 1963. The Salt Lake City-based company has entertained audiences in Utah and worldwide by presenting great classical ballets, historical masterpieces, and new cutting-edge creations. The company continues to build future ballet artists and audiences by providing classical ballet training through the Frederick Q. Lawson Ballet West Academy at its four campuses for more than 1,000 students. Ballet West also operates one of the largest education and outreach/community engagement programs in the country, reaching hundreds of thousands of children and adults throughout Utah and the Intermountain Region every year.
The finale of Ballet West's 2022–23 season features three Ballet West premieres, including Light Rain, in honor of Mr. Arpino's 100th birthday. The program, entitled "The Wedding," runs April 14–22, 2023 at the Janet Quinney Lawson Capitol Theatre in Salt Lake City.
Adam Sklute has been artistic director of Ballet West since 2007. He spent 23 years with The Joffrey Ballet, beginning as a dancer, then joined the artistic staff and was part of the team that moved the company from New York to Chicago. Sklute has extensive television and film credits and is an adjunct professor at The University of Utah as well as a teacher, lecturer, coach, and judge for ballet schools, competitions, and companies worldwide.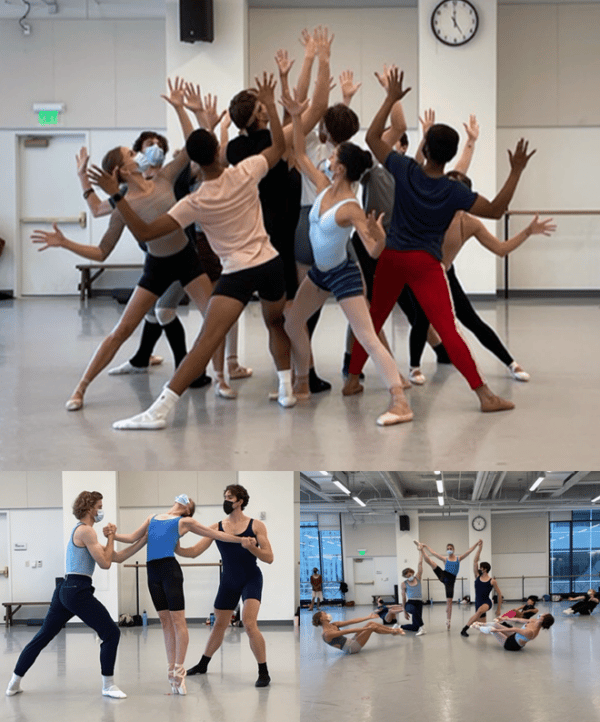 Ballet West rehearsing Light Rain. Photo credit: Cameron Basden
Adam Sklute's thoughts and recollections:
What is your personal history performing Arpino works?
I was a dancer with The Joffrey Ballet from the mid-1980s through approximately 2000. I was one of the last dancers hired by Robert Joffrey. When we moved from New York to Chicago, I became a member of the artistic staff as ballet master, then assistant director, and finally as Mr. Arpino's associate director in 2004. I grew up in Berkeley, California, where the Joffrey used to have residencies and premiered a host of Jerry's ballets, including Kettentanz, Trinity, and later, across the bay in San Francisco, Light Rain, among many others. I started dancing because of the Joffrey and Jerry's ballets in particular. Their energy, dynamic, and unique style are what inspired me to dance. When I joined the Joffrey, I was part of a group of dancers always in his works, and later, it was my honor to be by his side as part of a team that taught and coached his ballets. I even helped with the development of the very last two ballets Jerry created: IDNA and his little gem RUTH, Ricordi per Due. Getting him to return to the studios after decades without choreographing was such a labor of love, and RUTH, Ricordi remains a regular part of my company's repertoire today. My entire career, both as a dancer and in leadership, has been influenced and colored by Jerry's approach to dance and movement.
What does it mean to you to present Light Rain as we celebrate Mr. Arpino's centennial?
Among Jerry's many wonderful ballets, there are a small group that I consider show-stoppers, Light Rain being one of them. Throughout my time with the Joffrey, we performed the work around the world to thunderous applause and cheers. It became a signature work of the Joffrey from the '80s through the early 2000s. It truly is a hallmark of Jerry's choreography and unique style. Bringing this joyous, exciting, and fun work to the Centennial is certainly an honor for my company. It also is emotional for me on many levels as it feels a bit like coming home.
How would you describe the Arpino style? What are some distinctive elements of his choreography?
Gerald Arpino's unique style of movement comes from a combination of classical ballet and modern dance training, in my opinion. His approach to dance is ultimately classically based but with a powerful contemporary use of the torso, the side of the body, and the twist of the spine and hips. Additionally, his movement requires a special type of attack to the steps, either drawing out the beginning and hitting the apex or attacking the start and extending the finish of the movement languorously. Even in slow work, intense energy is required to create the proper effect through the entire body—that energy he simply called "Zaa." No matter how fast or sharp, there is a lushness and romanticism to his more classically based creations. Watching his works can be like standing in the center of a flight of meteors (to paraphrase Agnes de Mille). That said, he worked in so many different genres and styles that he was also often referred to as "not just one choreographer, but a whole fleet."
How does dancing Arpino ballets prepare a dancer for other types of repertory?
For all the details I map out in the above comments, his work trains your body to work in total—not just the feet or the legs, but everything moving together. Personally, I feel dancing Jerry's works made me fearless, taught me coordination, and gave me speed and energy for everything I danced.
Arpino Centennial Spotlight:
Valerie Madonia and Daniel Baudendistel

Excerpt of Arpino's Light Rain pas de deux danced by Valerie Madonia and Daniel Baudendistel. Click here.
The Lake Tahoe Dance Collective has as its mission to promote classical, modern, and contemporary dance of the finest quality in the Lake Tahoe area through performance, education, and outreach, enriching the community as a whole and as a cultural destination. What started as Tahoe Youth Ballet in 2009 with a single performance has become a company and school that presents a range of performances for Lake Tahoe audiences throughout the year, including its own productions as well as visiting dance companies.

The Lake Tahoe Dance Festival's 10th Anniversary Celebration takes place July 27–29, and the program includes a pas de deux from Arpino's Light Rain, performed by Ethan Price and Kate Loxtercamp of Ballet Arizona. Staging the work are Daniel Baudendistel and Valerie Madonia, who danced the work themselves, under Arpino's direction, in the mid '90s—you can see an excerpt of a performance featuring them (above) and in rehearsal with Arpino (below). Excerpt of Arpino in rehearsal working with Valerie Madonia and Daniel Baudendistel. Click here.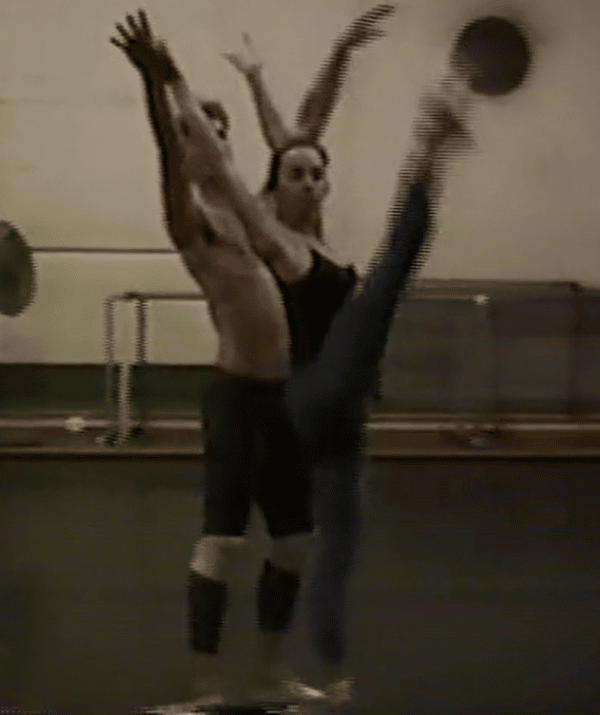 Valerie Madonia danced professionally for 20 years, including with the National Ballet of Canada, American Ballet Theatre, and The Joffrey Ballet. She toured Southwestern Colorado with her own project-based company, Alpine Dance, Inc. and co-produced and directed a five-year residency between the Joffrey and the Telluride Society for Performing Arts. Madonia has been teaching, directing, and choreographing for 25 years, most notably for the New School University, Joffrey Ballet School, and Colorado Ballet. She is currently guest teaching for American Ballet Theatre and the Joffrey School Trainee program in New York.
Valerie Madonia's thoughts and recollections:
What is your personal history performing Arpino works? 
I first saw Arpino's Kettentanz performed by The National Ballet of Canada in the late 1970s as a student in the school there. It was through this work that I fell in love with contemporary ballet. After dancing seven years in some of the most classical ballet companies (The National Ballet of Canada and American Ballet Theatre), I wanted a freedom and joy that I wasn't finding in the classical roles I was offered and so auditioned for The Joffrey Ballet. I went to see the company at City Center and was truly dazzled by Arpino's Light Rain and felt immediately that this was the right company for me.
A couple months later, my first day in the studio with the company was with Arpino and a revival of The Clowns ballet. Each of his works was so differently stylized but each carried an honest commitment to his vision. Though I wasn't challenged physically by The Clowns, I quickly caught on to the contagious effervescence that surrounded Mr. Arpino and found myself strutting en pointe like a chicken as one of his post-apocalyptic clowns. That same year, I was one of three dancers called to the studio as he created the Snow and Flowers scenes for Joffrey's Victorian Nutcracker.
In my 10 years with the Joffrey, I performed the central pas de deux in Arpino's Sea Shadow, Round of Angels, Light Rain, Viva Vivaldi, Italian Suite, Trinity, Nutcracker "Snow," and, as a soloist, in Reflections, Suite Saint-Saëns, and "Waltz of the Flowers." In 1990, Daniel Baudendistel and I spent many hours in the studio with Mr. Arpino as he started creating a new pas de deux that was tentatively called, The Kiss. 
What does it mean to you to stage this work on Ballet Arizona dancers as we celebrate Mr. Arpino's centennial? 
Daniel and I spent many, many hours in the studio, often alone together on weekends, analyzing the nuances of the stylized choreography of Light Rain pas de deux and working tirelessly on making the partnering seamless. Arpino was one of my mentors, artistic supporters, and a director who shaped me as a dance artist. Passing on his work to younger generations is an honor and keeps his legacy alive in the beautiful tradition of mentor to acolyte.
How would you describe the Arpino style? What are some distinctive elements of his choreography?
Each of Arpino's ballets have a flavor that dictates movement and theatricality. He loved to augment his choreography by adding magic in the form of flower petals, glitter, mirrors, smoke.
Arpino liked elongated lines, exaggerated arms, movement initiated from the torso, fast footwork, exciting entrances and exits, pulling off balance, stylized running, and always fluttering bourrées!
How does dancing Arpino ballets prepare a dancer for other types of repertory?
His ballets require great stamina since there is never a moment on stage where one stands still and waits for the next step. His work teaches the dancer to cover as much space as possible, never "mincing" a step but giving value to everything.
**************************************************************************
Daniel Baudendistel danced with American Ballet Theatre, The Joffrey Ballet, and the Lar Lubovitch Dance Company. He won First Place at the Saint Sauveur International Choreographic Competition and appeared on Russian television dancing at the Kremlin Palace, with Gala Des Etoiles in Montreal, with the BBC of London, and in the documentary "Ballet Russes." Baudendistel has directed and choreographed for the Hiroshima Opera Company and was Professor of Dance at the New School University Eugene Lang College in New York City. This is his 10th year teaching at The School of Ballet Arizona, and he has performed with the company in Don Quixote, A Midsummer Night's Dream, Sleeping Beauty, and Romeo & Juliet.
Daniel Baudendistel's thoughts and recollections:
I joined The Joffrey Ballet in 1981 and almost immediately I was called to a rehearsal of Gerald Arpino's Light Rain. I was an understudy for the opening pas de trois. Little did I know at the time how important this ballet would become for me. What I came to understand after being in the company for a while was that Arpino's "style" was really about collaboration. When he was working on a ballet the dancers were encouraged to come up with movements and when he saw something he liked he would put that into the ballet. It was fun, but also rewarding to have your ideas embraced, and I remember liking the style of this particular ballet very much. I ended up leaving the Joffrey before I ever got the chance to dance Light Rain, but, strangely enough, about 10 years later I rejoined the company and began a long and fruitful partnership with Valerie Madonia. Valerie had been in American Ballet Theatre, the company I joined after leaving the Joffrey. We had the privilege of dancing many Arpino ballets together. His partnering work required quite a bit of strength because much of it involved manipulating the woman on and off her balance or lifting her barely off the floor and covering space. James Canfield and Pat Miller had a very special feeling when they danced together, and they were largely responsible for what came to symbolize Arpino's work. His greatest gift, I believe, was being able to bring out the best in young dancers and take from their strengths.
I am honored to be staging Light Rain with two beautiful dancers from Ballet Arizona. It has been a wonderful time to revisit a work that was such a rewarding part of my life as a dancer and to pass those rewards on to a new generation of dancers.
***************************************************************************
Arpino Centennial Spotlight:
Tina LeBlanc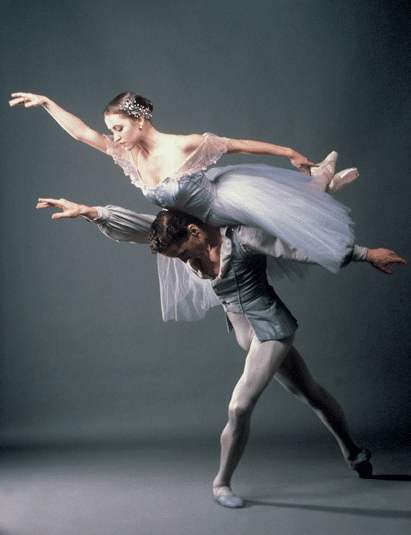 Arpino's L'Air D'Espirit: Tina LeBlanc and Glenn Edgerton
Photo credit: Herbert Migdoll
Throughout this year and the next two seasons, The Gerald Arpino Foundation is celebrating the legendary choreographer's 100th birthday through special licensing agreements with ballet companies and university dance programs around the country. We'll be sharing occasional "spotlights" on some of these performances as we build excitement toward the culminating Chicago Centennial Celebration in September 2023 at the Auditorium Theatre.
Universal Ballet Competition (UBC) is a premier student ballet competition that has expanded into eight major metropolitan cities in the U.S. due to its growing popularity among dancers, studio directors, and the ballet community. Founding members Lissette Salgado and David Lucas, former principal dancers of the Joffrey Ballet and the Royal Winnipeg Ballet, have recruited globally renowned dancers, company directors, and ballet school directors to judge, mentor, and teach the master classes during each UBC competition. Since its first season, UBC has hosted and mentored more than 10,000 dancers and awarded more than $3 million in scholarships.
On May 30, UBC is hosting a Gala event in Jacksonville, Florida that features Arpino's L'Air D'Espirit, performed by Misa Kuranaga and Joseph Walsh of San Francisco Ballet, staged by Tina LeBlanc. L'Air D'Espirit, premiered in Chicago at the Auditorium Theatre on Feb 9, 1973, danced by Francesca Corkle and Glenn White. The ballet evokes the feminine aura of the great ballerina Olga Spessivtseva, best known for her ethereal performances of Giselle in the Diaghilev era. We interviewed Tina as she shared her thoughts about Mr. Arpino and more.
What is your personal history performing Arpino works? 
I joined Joffrey II when I was 15 and was fortunate to have some of my own roles even before I joined the main company—I did every young girl role. Some of the Arpino works I performed were Confetti, Kettentanz, Birthday Variations, Suite Saint-Saëns, Light Rain, Viva Vivaldi, L'Air D'Espirit, Clowns, Reflections, and a few that are perhaps less prominent, like The Pantages and the Palace Present "Two-A-Day", a throwback to vaudeville, and Jamboree, a tribute to San Antonio.
For Kettentanz I remember getting ready in the wings to enter; we were a line of about 12 people, six couples, with our hands on each other's shoulders, and we'd come in like a snake. As we listened to the intro, we'd say, "OK chain gang! Let's have a good show!" It was technically difficult, but really beautiful.
L'Air is very close to my heart, one of my favorites while I was dancing. Glenn Edgerton was my first partner, and I also danced it with Tom Mossbrucker.
Reflections was the first slow pas de deux I did with Joffrey—and it was with Ashley Wheater, now the director of the Joffrey.
What does it mean to you to stage the work on San Francisco Ballet dancers as we celebrate Mr. Arpino's centennial?
It's been nice to revisit it, hone it a bit more. The older you get the more you learn, and I wish I could go back and do it the way I think now. It's been really nice to go through it with new dancers who are completely unfamiliar with Arpino's works and shape it the way I think it should be. Misa and Joseph are in a very good place; they're beautiful dancers.
How would you describe the Arpino style? What are some distinctive elements of his choreography?
Two words that stand out in my mind are energy and dynamics. His pieces always have them—or as he would put it, "Za, baby! You gotta have za!"—which meant dynamics in my mind. As far as Mr. Arpino himself—in that movie The Company, Malcolm McDowell's character was spot on.
How does dancing Arpino ballets prepare a dancer for other types of repertory? 
Because they are technically demanding and need a lot of stamina—at least the pieces I did—if you can master this form, you can pretty much do anything. It teaches you how to pace yourself, the musicality, the dynamics. It's a well-rounded way to approach any piece if you use pacing, musicality, and dynamics. 
Donate
Paypal and The Gerald Arpino Foundation make it easy and convenient to support the works of these extraordinary men. By clicking on the 'donate' button, a Paypal window will open up and will allow you to give at your own convenience. Please show your support to The Gerald Arpino Foundation today! Paypal accepts all major credit cards.

Performances
2023
FEB
Ballet Memphis
Birthday Variations
MAR
Brigham Young University Theatre Ballet 
Viva Vivaldi, Reflections, Birthday Variations
Newport Contemporary Ballet
Light Rain, pas de deux
MAY
Oklahoma City Ballet
Birthday Variations
JUNE
SEP
Arpino Chicago Centennial Celebration
American Ballet Theatre, Ballet West, Complexions, Eugene Ballet, Joffrey Ballet, Oklahoma City Ballet, San Francisco Ballet
2022

OCT
Dimensions Dance Theatre of Miami
Light Rain, Touch Me
Joffrey Ballet
Suite Saint Saëns
SEP
Kenneth Walker Dance Project
Light Rain pas de deux
JULY
Lake Tahoe Dance Festival
Light Rain pas de deux
JUNE
Beckanne Sisk and Chase O'Connell, Stars of American Ballet
Light Rain pas de deux
MAY
Universal Ballet Competition
L'Air D'Esprit
APRIL
MARCH
Fort Wayne Ballet
Light Rain, RUTH, Ricordi Per Due
Joffrey Ballet
Birthday Variations
Madison Ballet
Birthday Variations
Beckanne Sisk and Chase O'Connell, Stars of American Ballet
Light Rain pas de deux
FEBRUARY
2021

JANUARY
Ballet Ensemble of Texas
Confetti 

FEBRUARY
Dimensions Dance Theater of Miami
RUTH, Ricordi per Due

JULY
Dimensions Dance Theater of Miami
Touch Me
OCTOBER
Joffrey Ballet
Birthday Variations
2020
MARCH
New York Dance Project
Confetti 
JULY
A Virtual Robert Joffrey Masterclass I
Lecture Demonstration part 1
SEPTEMBER
A Virtual Robert Joffrey Masterclass II
NOVEMBER
A Virtual Robert Joffrey Masterclass III
DECEMBER
NY Dance Project
Birthday Variations
2019
FEBRUARY
Butler Ballet
Light Rain
Dayton Ballet
Trinity
Nevada Ballet Theatre
Light Rain, pas de deux
Saint Louis Ballet
Reflections and Light Rain pas de deux
APRIL
Eugene Ballet
Italian Suite
Oklahoma City Ballet
Pas des Deesses
Walnut Hill School for the Arts
Birthday Variations
MAY
Ballets de San Juan
Birthday Variations
New Albany Ballet
Viva Vivaldi, 2nd movement
NOV
New Zealand School of Dance
Round of Angels
2018
FEBRUARY
Brigham Young University, Salt Lake City, UT
Viva Vivaldi! excerpts
MARCH
American Repertory Ballet
Sea Shadow
New York Dance Project
Birthday Variations
Franklin School for the Performing Arts
Birthday Variations
APRIL
Classical Dance Center, CA
Italian Suite, solo
MAY
Marymount Manhattan College, NY
Light Rain
JUNE
Joffrey Ballet
Round of Angels
Eglevsky Ballet
Viva Vivaldi!, excerpts
AUGUST
Dimensions Dance Theatre of Miami
Light Rain pas de deux
SEPTEMBER
Fort Wayne Ballet
Light Rain, Pas de Deesses
OCTOBER
New York Dance Project
Gamelan(excerpts), Viva Vivaldi(excerpts)
City Ballet of Boston
Birthday Variations
NOVEMBER
Dimensions Dance Theatre of Miami
Reflections
DECEMBER
Wayne State University
Valentine
Cincinnati Conservatory of Music, University of Cincinnati
Birthday Variations
2017
FEBRUARY
Brigham Young University, Salt Lake City, UT
Birthday Variations
MARCH
Sacramento Ballet, Sacramento, CA
Kettentanz
Gala of Dance, Cabo San Lucas, Mexico
Light Rain, pas de deux
APRIL
Joffrey Ballet, Spring Gala, Chicago
Round of Angels
AUGUST
Chautauqua Festival, NY
Light Rain, pas de deux
SEPTEMBER
Fort Wayne Ballet
Confetti, Light Rain
OCTOBER
Ballet West
RUTH, Ricordi Per Due
Dance Now! Miami
Touch Me
NOVEMBER
Dimensions Dance Theatre of Miami
Light Rain
DECEMBER
Ballet San Antonio
Snow, Flowers from Robert Joffrey's The Nutcracker
2016
FEBRUARY
Dayton Ballet, Dayton, OH
Confetti
Ballet West, Salt Lake City, UT
Sea Shadow, Light Rain, pas de deux
Joffrey Ballet Concert Group, New York
Suite St. Saens
MARCH
Colorado Ballet, Denver, CO
Light Rain, pas de deux
City Ballet of Wilmington, NC
Viva Vivaldi! 2nd movement
APRIL
Ballet San Antonio
Confetti
Joffrey Ballet Concert Group, New York
Suite St. Saens
MAY
Joffrey Ballet Concert Group, New York
Suite St. Saens
2015
FEBRUARY
Butler Ballet, Indianapolis, IN
Viva Vivaldi! 
Central Indiana Dance Ensemble, Indianapolis, IN
Birthday Variations
2014
FEBRUARY
Dayton Ballet, Dayton, OH
Reflections
Ballet Arkansas, Little Rock, AR
Birthday Variations
Los Angeles Ballet Academy, Los Angeles, CA
Italian Suite excerpts
DanceNOW Miami, Miami, FL
Light Rain pas de deux
MARCH
American Repertory Ballet, Princeton, NJ
Confetti
APRIL
Texas Christian University, Fort Worth, TX
Birthday Variations
MAY
Interlochen Center for the Arts
Viva Vivaldi, 2nd Movement
Joffrey Ballet School/NY
Kettentanz and Light Rain
JUNE
Chicago Ballet Arts, Chicago, IL
Reflections, excerpts
AUGUST
Ballet West ll, Salt Lake City
Confetti
Aspen Santa Fe Ballet
Light Rain pas de deux
SEPTEMBER
Fort Wayne Ballet, Fort Wayne, IN
Confetti
OCTOBER
American Repertory Ballet, Raritan, NJ
Confetti
NOVEMBER
Ballet West, Salt Lake City
Ruth Recordi
DECEMBER
Joffrey Ballet Concert Group, Toronto
Suite St. Saens