The Arpino Centennial Celebration
On January 14, 1923, Gerald Arpino, the visionary choreographer and co-founder of the Joffrey Ballet, was born in Staten Island, NY. He, along with Robert Joffrey, created both a ballet company and a body of work that has had a singular and enduring impact on American ballet.
Throughout his 50-year career he created nearly 50 ballets for The Joffrey Ballet. From landmark works like Trinity and Round of Angels to Suite Saint-Saëns and Light Rain, Arpino was a masterful entertainer who's dazzling displays brought audiences to their feet time and time again.
To honor the 100th anniversary of his birth, the Gerald Arpino Foundation presented a multi-year Centennial Celebration of his life and works. In keeping with the Foundation's mission and the vision of Robert Joffrey and Gerald Arpino, the Foundation celebrated by offering lectures, masterclasses, and setting Arpino ballets on dance companies and university dance programs throughout the country with special licensing agreements during the celebration period 2022-2024. For the first time, ballet companies from around the country performed for the Chicago Centennial Celebration on September 23 and 24, 2023, at the historic Auditorium Theatre, 50 E. Ida B. Wells Drive, Chicago.
*The Foundation's Centennial Celebration comprised of the 2022-2023 and 2023-2024 performance seasons to anyone interested in licensing the Arpino works.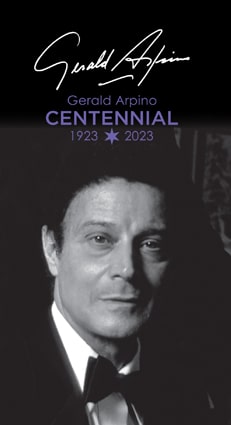 Chicago Centennial Performances:
Saturday, September 23, 2023
7:30 pm
INTERMISSION
INTERMISSION
Sunday, September 24, 2023
1:00 pm
*Program subject to change.