The Gerald Arpino Foundation presents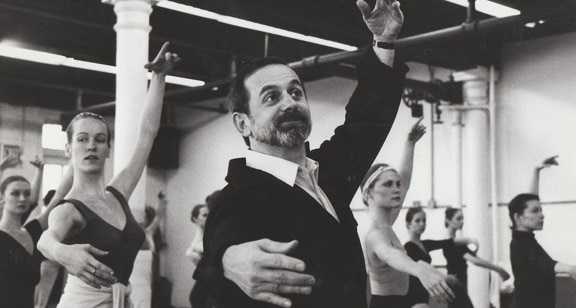 A Virtual Robert Joffrey Masterclass
5th in a 5-part series
We are excited to announce the 5th and final Virtual Robert Joffrey Masterclass, Sunday May 16 at 12:30pm-2:45pm, Central Time. Join us for a unique virtual experience and learn firsthand from the répétiteurs of The Gerald Arpino Foundation, who trained directly under Robert Joffrey.  This is an advanced level ballet class for dancers and observers.  No prior participation required. Registration closes at 7pm, Central time on Thursday, May 13.
This 5th masterclass will continue to examine Robert Joffrey's meticulous attention to creating and teaching a ballet class. The lecture will present a series of interviews of artistic directors and dance leaders speaking about Robert Joffrey's impact on dance in America.
When you register, you will receive two links:
Lecture Demonstration video link, for advanced viewing and preparation.
Zoom link for masterclass, Sun May 16 at 12:30pm-2:45pm, Central Time.
Robert Joffrey Masterclass features
a new class based on the foundations of the Robert Joffrey style
team-taught by two master teachers of Robert Joffrey's style: Charthel Arthur and Trinette Singleton
receive feedback in real time
submit questions in advance for Q&A session
class time extended for more dancing, 1 hr 45 min
all-new Lecture Demonstration video
For individual participants, this masterclass is offered on a pay-as-you-can basis.  The recommended donation is $20 per participant. The minimum donation is $10 per participant.
A Studio Flat Rate of $50 for all studios, schools, and institutions is available. Any number of students in a studio may participate. When you register, please let us know by writing in the message window that this is a "registration for the studio flat rate".
Registrants will receive an all-new Lecture Demonstration video which will include interviews with artistic directors of the Joffrey Ballet, American Ballet Theatre, San Francisco Ballet, Ballet West and more.  All of whom have danced under Joffrey's directorship and were influenced by his vision.  For the demonstration, Charthel Arthur and Trinette Singleton co-teach and share their insight and expertise on Robert Joffrey's exercises. Dancer, Amber Bailey of Fort Wayne Ballet rejoins us for the final class to demonstrate. Piano accompaniment by Colin DeJong of Hubbard Street Dance Chicago.
If you are participating as a dancer, please be sure the entire body can be clearly seen during the class by our teachers.
Admission is limited and only by registration. Check out our Facebook page!
There will be a Q&A session after the class.  Please feel free to submit any questions beforehand to arpinofoundation@gmail.com.
Registration for the fifth Robert Joffrey Masterclass is closed. Thank you for your interest and please check us out on Facebook and Instagram.